Structured Cabling Solution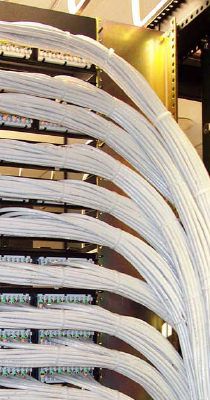 We deliver a complete, high performance media system based on the latest technologies. Professionally installed and fully certified, these media systems will help to provide fault-resilient performance within your communications network and eliminate system downtime.
The elements in NSS Structured Cabling Solution have been designed to efficiently deliver the media systems your organization needs now and tomorrow.
NSS Structured Cabling Solution is complemented by a full range of associated services. Our turnkey offerings provide you with a single point of contact to ensure that your entire project is implemented as one easy-to-manage task. Combining the use of optical-fiber and unshielded twisted-pair technologies, this support will take your network vision all the way to successful realization.
Our certified installers ensures installation consistency worldwide, according to the highest NSS quality standards. You can be sure that all of your sites are identically designed, installed and maintained. We generate a benchmark for all quality measurements, because our installation specialists create and adhere to a standard solution document designed to meet your organization needs.
We certify the new media systems that we install, so that you're assured of support for both today's network applications and emerging high-speed applications. This certification is valid for up to the lifetime of the media system in its original place of installation. We will also certify your current media system when your existing infrastructure is going to be re-used for a network installation, giving you the assurance that your new network will perform as desired.